Thursday, 30 September 2021
ENS Support Worker, Rachel, stars in Essex Care Campaign
The demand for support staff continues to rise, and by 2035 the social care sector in England will need an additional 500,000 talented care staff. As a result, Essex County Council has launched a brand-new recruitment campaign to inspire a new generation of carers.
Adult social care workers can be based in the community, in care homes, hospitals or people's homes. Tasks can include supporting people to participate in social activities in the community and helping with personal care, such as getting dressed or cooking meals. All roles are designed to provide personal and practical support to help people live independently. Carers can support older people and those with mental or physical conditions.
"To know you are making a difference to people's lives whilst also enriching your own life, is the most rewarding thing."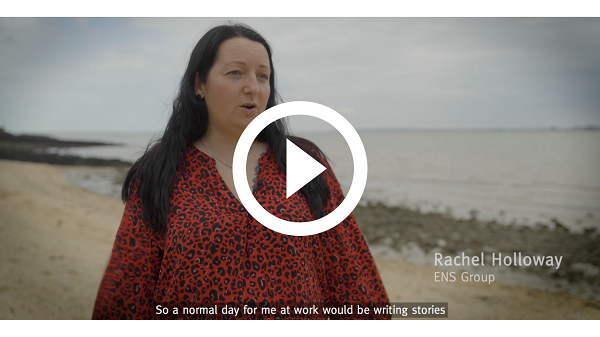 At the heart of this campaign is Rachel Holloway, one of our wonderful ENS Care & Support Community Support Workers. Although she had always been a kind and caring individual, she only realised her passion for helping others when she moved in to support a loved one.
Starting a career in care was the best decision Rachel ever made. Her confidence and passion have grown since working in the sector, and she looks forward to every shift as no two days are ever the same.
"If you're considering a career in adult social care, but you're concerned that you don't have the relevant qualifications, then please don't let that put you off. You'll get on the job training. You just need natural passion and an attitude for caring! Don't stand on the edge of the diving board but jump right in!"
It's been a fantastic opportunity to work with Essex County Council and Rachel on this new campaign. Our thanks go out to the incredible teams involved, and Rachel for her time and passion.
If you're looking for a new challenge in the care sector, you can browse our exciting opportunities online today.