Friday, 08 July 2016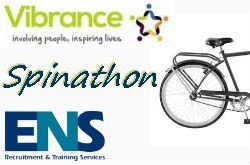 This November we will be celebrating our 25th Anniversary! We've worked with some fantastic people over the years, so as a way of saying thank you
to everyone who has worked with us we're holding 25 fantastic events, one to celebrate each year.
We're kicking off with a 25 hour Spinathon, that's 25 hours straight cycling, including all through the night! This incredible challenge will be in aid of local charity Vibrance, to help fund a new sensory room at one of their services.
We'd love as many people involved as possible so we're inviting you to come and support us with this challenge. We'll be cycling in 30 minute slots, so if you think you're up for the challenge let us know. There will be no set distance or speed to stick to, you just need to make sure you're peddling for the full 30 minute slot, so we can achieve our 25 hours of straight cycling. There will be lots of music, food and drink to keep you motivated and going the distance!
If cycling isn't your thing then why not come down and cheer everyone on and get involved in the fundraising effort. Please do join us at the Spinathon to launch our 25 exciting events this year.
Spinathon
Date: Kicking off at 11am on Friday 29 July through to 12 noon on Saturday 30 July 2016
Location: ENS office, 22-24 Hamlet Ct Rd, Westcliff-on-Sea SS0 7LX
Sponsorship: We need to raise at least £1,000 for Vibrance; you can sponsor us at
https://www.justgiving.com/fundraising/ENS-Spinathon2016
Please note participants are required to cycle for 30 minutes non stop. If you are interested in taking part or coming along to support us on the day please contact

Louise O'Donoghue
email:lodonoghue@ensrg.co.uk
phone: 07392 313690.